Many people who use contact lenses to correct vision problems choose them because they're convenient and effective.
While soft contact lenses are the most common, hard contact lenses have some advantages over soft contact lenses, including sharper vision, a longer lifespan, and easier handling.
Hard contact lenses, also known as rigid gas permeable (RGP) lenses, are a type of contact lens made of a rigid, durable plastic material.
They're typically used in situations where soft lenses may not provide adequate vision correction, such as controlling myopia or correcting high refractive errors. They can also be used to treat certain eye conditions and are a popular choice for athletes and people with active lifestyles.
How Do Hard Contact Lenses Work?
Hard contact lenses, as opposed to soft contact lenses, maintain their shape on the eye, allowing for better visual acuity and less distortion of vision.
This is particularly important for people with astigmatism, a condition in which the cornea is irregularly shaped, which can cause blurry or distorted vision.
Hard contact lenses are also permeable to oxygen, allowing oxygen to pass through to the cornea. This is important because the cornea requires oxygen to remain healthy, and a lack of oxygen can cause the eye to become irritated and inflamed.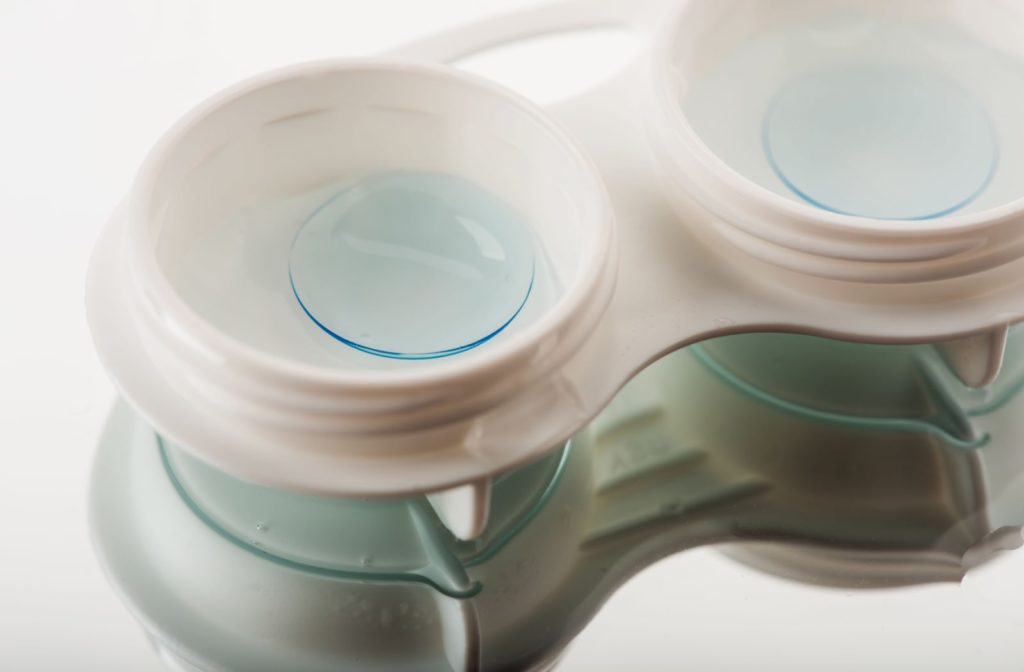 Benefits of Hard Contact Lenses
Wearing hard contact lenses has several advantages, including:
Better visual acuity than soft contact lenses because they hold their shape on the eye
Longer lifespan than soft contact lenses and can last for a year or more with proper care
Less likely to harbor bacteria and other microorganisms that can cause eye infections because they're made of a non-porous material
Can be worn for longer periods than soft contact lenses, which typically require replacement every 2 weeks to a month
Drawbacks of Hard Contact Lenses
While hard contact lenses have many advantages, there are some disadvantages to consider, including:
Longer adjustment period: Because hard contact lenses are rigid, they can be more difficult to get used to than soft contact lenses, and it may take several weeks or even months to adjust to wearing them.
Less comfortable: Hard contact lenses can be less comfortable to wear than soft contact lenses, especially at first, as they may feel like a foreign object in the eye.
How to Care for Hard Contact Lenses
Proper care and cleaning of hard contact lenses are essential to maintain their lifespan and ensure healthy eyes. Here are some tips for caring for hard contact lenses:
Before handling your lenses, thoroughly wash your hands with soap and water.
Every day, clean, rinse and disinfect your lenses with a contact solution.
To remove any debris or buildup, gently rub your lenses with your fingers.
When not in use, keep your lenses in a clean case.
Replace your contact lenses as directed by your eye doctor.
When Are Hard Contact Lenses Useful?
Hard contact lenses can be especially beneficial for people who have specific vision correction needs, such as myopia, astigmatism, or high refractive errors.
Myopia Management
Orthokeratology, also known as ortho-k, is a type of hard contact lens therapy that entails sleeping with specially-designed rigid lenses to reshape the cornea and improve vision during the day. The lenses are usually removed in the morning, but the effects can last all day.
Ortho-k is frequently used to correct myopia (nearsightedness), but it can also be used to correct astigmatism. It's a non-surgical alternative to vision correction procedures such as LASIK that may be appealing to people who are not surgical candidates.
Astigmatism Correction
Astigmatism is a common condition characterized by an irregularly shaped cornea, resulting in distorted or blurred vision. Because their rigid, spherical shape can compensate for the irregularity of the cornea and provide clearer vision, hard contact lenses are commonly used to correct astigmatism.
High Refractive Error Correction
Hard contact lenses can be more effective than soft contact lenses at correcting nearsightedness, farsightedness, and astigmatism. This is because hard contact lenses' rigid material can provide more precise, consistent correction than soft lenses.
Get Fitted for Hard Contact Lenses in Loveland
Make an appointment with 2020 Eyecare Ohio if you want to try hard contact lenses or any other type of contact lens. Our knowledgeable staff can assess your eye health, recommend the best type of contact lens for your needs, and advise you on proper lens care and handling.
Contact lens exams may include eye curvature and size measurements, a review of your medical history and lifestyle, and a trial fitting of various types of lenses. With the help of an experienced eye care provider, you can find the right contact lenses to improve your vision and your quality of life.